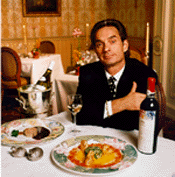 INTERVIEW:
Chef Georges Perrier

"If you die and go to 'food heaven', Le Bec-Fin will be the name over the door."
-- zagat survey, 2000
Originally from Lyon, France, a city world-renowned for its culinary arts, Chef Perrier began his accomplished career at 14 years old. He later trained with the great chefs at some of the finest restaurants in France including Michel Lorrain of Casino de Charbonnieres near Lyon, Jacques Picard of L'Oustau de Baumaniere in Provence and Guy Thivard at La Pyramide in Vienne. He first came to Philadelphia in 1967 as Head Chef at La Panetiere. After three years, Perrier opened his own restaurant at 13th & Spruce Street, choosing the name Le Bec-Fin, a French idiom for "the good taste." In October, he celebrated thirty five years of running what has become, a Philadelphia institution.


---

The full version of this article is now available on Restaurant Report's membership site RunningRestaurants.com.

Click here to go to the article page.

---
Copyright © 1997-2020 Restaurant Report LLC. All rights reserved.