El Conquistador in Puerto Rico
By Ralph Collier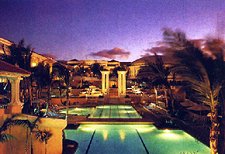 Haute winter birds raise an eyebrow when more practical off season visitors brag about special rates at the Caribbean resorts. This year, the summer's fascination with off-season rates for many families has blossomed into a consuming obsession, taking the place of more ordinary lusts.
As anybody who has been at home this summer knows only to well, Caribbean vacation spots have no monopoly on stifling heat and debilitating humidity. Question: Why leave one punishing climate for another with comparable climatic penalties? In two words, the Atlantic and the Caribbean. Both provide constant breezes, cooling off visitors at a getaway called El Conquistador, not far from San Juan, Puerto Rico. Itís a resort that has everything except its own beach, although it is surrounded by water. But visitors can take a 15-minute voyage by sea to the resort's own private island, with beaches for swimming, snorkeling and other assorted water sports. Resident instructors are on hand because lending some folks equipment is not unlike giving a kangaroo a food processor.
As befits a winner of the AAA' s Five-Star award, El Conquistador is well laid out and staffed with caring and compassionate personnel. Lawns are manicured, trees are trimmed, and swimming pools gleam in the sun. The feeling of gracious hospitality never lets up.
The hotel's executive sous chef comes to our quarters to be part of the broadcast we originate from El Conquistador. A giant of a chap, Paul Singh sounds like Peter Sellers and cooks like a dream. With egos as outsize as their hats, many chefs jostle for elbowroom in the kitchen. Chef Singh has no need for tactics of this variety; a man cognizant of the globalization of taste in major restaurants, conscious of fusion cuisine, he is a master who realizes that to succeed, restaurants must have regional orientation. One evening, he may emphasize a dazzling seafood risotto for openers; on another, he may prepare a dessert that turns out to be a potpourri with a sampling of five sweet gems that could easily feed two guests. Among the treats are a light as a feather flourless chocolate cake, a tiramisu presented in a chocolate cylinder resembling a rifle shell and a robust and irrepressible coconut creme brulee served in half a coconut surrounded by finely chopped pieces of coconut.
At another restaurant in this sun drenched corner of the property in an enclave named La Casitas, guests cannot believe their good fortune as they scan Le Bistro's menu for the evening. The culinary style is inventive but within the limits of reason. At one table, guests devour Le Delce de Foie Gras as an appetizer and it is the genuine article, seared Foie Gras Scallopini with Paillard of Potato and Braised Cherry Apple in Calvados. Le Bistro is nothing short of opulent. Starched tablecloths, lots of polished wood and fresh flowers.
The manageress speaks better English than most - chalk it up to her years living in Manhattan. The menu emphasizes a subtly flavored Risotto d' Homard as a remarkable entree, Saffron Risotto topped with Medallions of fresh Lobster, the crustacean flown in from Maine, in a Chardonnay Cream Sauce.
And to remind us of our good fortune, there is also a touch of Beluga Caviar. The crowd is composed of tasteful people who come merely to enjoy their repast and one another's company, and the restaurant is full of talk and contentment as course after course is graciously served.
Equally deserving of all the syllables is Le Medallion de Boeuf a la Moelle, Grilled Beef Medallions lightly browned, but not a second too long with Roesti potatoes and a Bone Marrow Crust, moistened with a Red Cabernet Sauce. All of this served with sauteed Chanterelles and Baby Vegetables. How they bring this dish to perfection should not concern you given the reality that your are paying for their expertise.
El Conquistador's Blossoms offers a retrospective of all the Asian foods you have enjoyed in the better Chinese or Japanese eateries at home, including sizzling Teppenyaki delights and dishes from Chinaís Huan and Szechwan districts that can be prepared tableside. Management has decorated the room with aquariums filled with tropical marine life, albeit the fish are incarcerated in minimal glass cases, a constraint that hardly keeps most diners from enjoying the cuisine.
For the visitor with an adventurous soul, a visit to the nearby rain forest - the only one in the United States - is highly recommended. The 28,000-acre Caribbean National Forest, given National Park status by President Theodore Roosevelt, is a short ride from the hotel. It offers visitors close encounters of the natural variety, from picnics amid rare flora and fauna to walks along breathtaking trails. El Yunque shows off 50 kinds of orchids, 150 varieties of ferns and other plants that share this diverse habitat with lots of tiny tree frogs, whose distinctive cry of "coqui" has given them their name. Tropical birds here include the magnificent Puerto Rican parrot, not long ago almost extinct and now enjoying a comeback, and other species not found anywhere else in the world. Of lesser intrigue may be the occasional appearance of the rare Puerto Rican boa, which grows to a length of seven feet. Time to beat a fast retreat to the hotel.
For more information on El Conquistador resort and Country Club, call 1-800-468-5228.
Ralph Collier is a member of the American Society of Travel Writers, and has guided thousands of vacationers and business travelers to rewarding adventures with his widely syndicated radio series and newspaper columns.
---
Copyright © 1997-2020 Restaurant Report LLC. All rights reserved.