"I'm Just a Cabernet
Kind of Guy"
By Leo B. Fox
Recently while visiting an Antiquarian bookseller, I was presented an old edition of George Saintsburys "Notes on a Cellar Book", published in 1930. Fortunately, it was offered to me after the bookseller learned that I was a wine importer. Needless to say, I had to have it! After reading some of the Saintsbury comments on wines, I realized that I had my own collection of notes from vineyards I have visited along with tastings in the growers cellars, plus a collection of photographs made during my various wine journeys. During this time I have been fascinated with the search for interesting and unique wines from out of the way places. My quest has taken me to many exciting countries and wine regions to taste great wines and meet interesting people. These experiences I will share with you. Some wines mentioned might be wines that I import and the opinions expressed will be my own. However, I challenge you to seek out interesting wines from the wine regions and grapes mentioned and to form your own opinions. Learn, experience, taste, and travel and you too will be rewarded as I have been.
At a charity wine tasting this spring, I poured a selection of eclectic wines and one Cabernet Sauvignon. A nice fellow came by and posed a common question, "Where is the Cabernet". Being the perpetual wine evangelist, I demanded that he taste my other wines first and then the Cabernet Sauvignon. Finally, he said " I'm just a Cabernet kind of guy". I guess that there is no disputing taste...... or is there?
I have no doubt that Americans have a strong varietal orientation when selecting and buying wines. Varietal wines are in the realm of todays' wine experience. Great numbers of New World wines are varietally labeled, with other countries not far behind. While our parents grew up on Gallo Hearty Burgundy or Mogen David, the current generation started early on with Cabernet, Chardonnay, Zinfandel and other California varietally labeled wines now found in almost every wine country of the world. The names are easy to remember and to order unlike many European wines. The irony is that most of these grapes except for Zinfandel originated in France although it was not easy to find a varietally labeled French wine until the great wave of Vin de Pays arrived in the USA.
The classic wines of France rarely carry the name of the grape variety except for Alsace which is mandated by law, while the French begrudgingly overlook "Bourgogne Chardonnay" and "Bourgogne Pinot Noir" labels to compete in world markets.
As an independent restaurateur and wine seller, what is one to do, go with the tide? ... Or seek out new wine alternatives that can stimulate and attract a more wine oriented customer base? No doubt, you already know my answer. In this competitive restaurant scene, rewards come to those free spirits who are willing to innovate and excite their customers with interesting selections!
BEYOND CABERNET SAUVIGNON
When I searched my Wine Notebook for wines which could challenge Cabernet Sauvignon, I ruled out France and those countries traditionally producing serious Cabernet based wines. I wanted wines having a noble character like Cabernet but not necessarily the taste of Cabernet. Thus, my picks are not Cabernet Sauvignon cousins such as Merlot or Cabernet Franc but distinctly different varieties and blends from the European continent. I avoided least common denominator wines and ultra expensive cult wines. A number of wines were considered but three seemed to stand out as being able to meet the challenge. These are wines that you can offer on your list to stimulate the tastes of those "Cabernet kind of Guys and Girls".
THE WINES
QUINTA DO COTTO DOURO TINTO (Red Douro Wine) The Douro Valley could be considered as the Napa Valley or Medoc of Portugal. The modern day red wine revolution in Portugal started in the Douro River Valley in the late 1950's. This is a dry isolated microclimate with schistous soils well suited for red table wines, particularly those made from Touriga Nacional, Tinta Roriz (Tempranillo), Touriga Francesa and other local varieties. Today, the Touriga Nacional is considered to be the top quality variety in Portugal. It does not natively exist in any other country. Quinta do Cotto is a 125 acre estate (chateau) owned by the Champalimaud family. The 18th Century manor house and vineyards are located in Cidadelhe, an ancient Roman fortress located on a high plateau overlooking the Douro river. Of French origin, Champalimaud ancestors fought in the battle of Bussaco alongside the English against the Army of Napoleon.
First known only for Port wine, table wine production started at Cotto in 1956 and became the responsibility of Miguel Champalimaud in 1976. He wanted to produce high quality wines like those of the Medoc by using top regional varieties. Miguel pulled up existing field blends and planted Touriga Nacional, Tinta Roriz (Tempranillo), and Touriga Francesa in continuous plots to facilitate separate vinification. After manual harvesting, the red grapes are destemmed, crushed and fermented traditionally. Cotto Tinto spends 12 months in new and second year oak casks. The result is a very complex red with fine tannins and a touch of oak. This 1997 vintage was judged as the top Portuguese Red in a tasting held by the Washington Post. Vintages currently available are 1996, 1997, and the 1998 which was just released.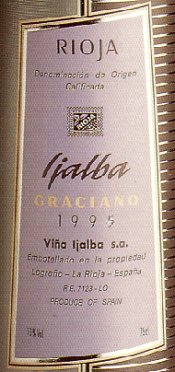 BODEGAS VINA IJALBA GRACIANO BODEGAS VINA IJALBA is located in Logrono, La Rioja Alta, Spain. This small, Bodega was founded in 1975 by Dionisio Ruiz Ijalba who owns 172 Acres of vineyards surrounding Logrono. The Bodega is the first to restore foot treading of grapes in the traditional Rioja fashion as practiced over 100 years ago. Bodegas Vina Ijalba is a pioneer of traditional noble varietals in Rioja and the first to produce a single varietal Graciano in Spain. Vineyards are planted using the Vaso trellis system on low yielding, poor soils using high density plantations.
The grapes are fertilized naturally as no irrigation is used and all harvesting is by hand. The wines are packaged in double weight anti-ultraviolet glass with long 49 MM corks and color coded pewter capsules. Very limited in production, this is one of the rising stars of the Rioja wine region. In England, Jancis Robinson considers it to be the top Post-Modern Bodega of Rioja. Ecological and biologic methods have been used since the vineyards were planted. In 1999, the Spanish government officially certified Bodegas Vina Ijalba as a producer of "Ecological Wines" a category recognized by the EEC.
1997 VINA IJALBA GRACIANO is 100 % varietal Graciano planted at high density on shallow, stony soils which give low yields for this rare variety. Whole berry and traditional fermentation accentuate complex fruit characters, the full body and intense red color. This is the first single varietal Graciano to be produced in Rioja. Aging is 6 months in small French Oak followed by bottle aging. The wine is untypical for Rioja where the Tempranillo and Garnacho grapes dominate.
PASOLINI Dall'Onda CHIANTI RESERVA MONTOLI 1995
Chianti Fiorentini is that part of Tuscany close to Florence. In Tuscany, the dominant variety is the Sangiovese which can also be blended with other varieties. The Pasolini Dall'Onda estate has produced wine in Barberino Val D'Elsa since 1573. While in the Colli Fiorentini zone, Count Pasolini prefers to label his wines as simply Chianti "Drove" and Reserva "Montoli". There is also a Chianti Classico produced called Badia a Sicelle. The Count is quite a colorful guy. He owns, with his family, a significant portion of the town of Barberino Val D'Elsa and the vineyards and Olive trees which surround it.
PASOLINI Dall'Onda CHIANTI RESERVA MONTOLI 1995 a blend of Sangioveto (Sangiovese Piccolo) grapes from the estate. It is aged in oak barriques (225L) and large botte (50HL) with additional bottle aging. This is an example of an outstanding Chianti Reserva. It has lots of color and extract and is a big wine with backbone having supple tannins. There is complex fruit with notes of tobacco and spices. I must say that there is a great deal of variation in Tuscan wines, ranging from indifferent to outstanding quality. The final result depends upon grape yields, vineyard sites and micro climates (Terreno) and the vinification techniques used. In Barberino Val D'Elsa, the Count has produced a splendid 1995 MONTOLI RESERVA from the Sangiovese grape which can hold its own among the Cabernets of the world.
We all know the frustration in dealing with of the Cabernet syndrome. While the consumer is becoming more sophisticated, there is still a tendency to order the known and familiar to be safe. It is incumbent upon us to educate our customers by suggesting wines which are more exciting than the middle of the road offerings known in the popular wine culture. The next time someone asks for a Cabernet will you be prepared with your own selection of alternative tastes to offer?

Copyright, Leo B. Fox
Leo B. Fox, is the founder and Managing Director of World Shippers & Importers Co, of Philadelphia. The firm specializes in importing limited production wines from Italy, France, Portugal and Spain. Mr. Fox may be contacted at wshippers@aol.com.
---
Copyright © 1997-2023 Restaurant Report LLC. All rights reserved.