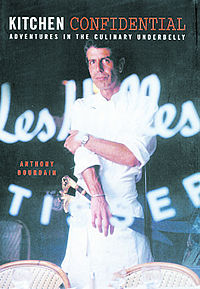 INTERVIEW:
Chef Anthony Bourdain

Three years ago the veteran New York chef sold an article to The New Yorker in which he revealed some of the darker secrets of the culinary world. Then, in May, he came out with "Kitchen Confidential", a book that is part autobiography and part, a restaurant goers survival manual. It instantly became a best seller.
If I may quote right from the book as the good chef describes himself during his post high school days..."I was a spoiled, miserable, narcissistic, self-destructive and thoughtless young lout, and badly in need of a good ass-kicking". And then it started to go downhill from there (my words).
Born in New York in 1956, Anthony Bourdain began his journey as a dishwasher (he needed the money) and was so moved by the events at a wedding reception that took place at his first restaurant that he decided to become a chef (see chapter 2, titled "Food is Sex".) He enrolled at the CIA, and graduated to a career that can only be described as amazing. He is now executive chef at Brasserie Les Halles in New York City.
Chef Bourdain is also the author of two novels, "Gone Bamboo" and "Bone in the Throat" (Canongate). His first non-fiction work, "Kitchen Confidential" (Bloomsbury) caught the attention of the public, and is must reading for members of the hospitality industry (for all kinds of reasons), This is a book that will make you laugh; make you wonder; and will possibly scare the hell out of you. Please be advised that "Kitchen Confidential" is not for everyone.


---

The full version of this article is now available on Restaurant Report's membership site RunningRestaurants.com.

Click here to go to the article page.

---
Copyright © 1997-2020 Restaurant Report LLC. All rights reserved.