Five Questions With:
Michael & Susan Maddox
Co-Owners of Le Titi De Paris
Arlington Heights, IL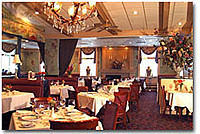 With the retirement of Chef Pierre & Judith Pollin after 30 years at nationally renown Le Titi De Paris, in suburban Chicago, came the passing of the torch to the next generation. And who more ideal than Pierre's longtime Executive Chef, Michael Maddox and his wife, Susan.
"I was made a partner three years ago, " says Chef Maddox. "Pierre approached me then and asked if I would be interested in buying the restaurant at some point. He knew the legacy of the restaurant he founded would continue. I have always worked here from day one as though I was an owner. This was my very first restaurant job out of school. I worked as a line cook for about a year and a half and left for more experience. A few years later, Pierre tracked me down to come back as the chef. I have always enjoyed working here."


---

The full version of this article is now available on Restaurant Report's membership site RunningRestaurants.com.

Click here to go to the article page.

---
Copyright © 1997-2020 Restaurant Report LLC. All rights reserved.