INTERVIEW:
Chef Andrew Carthy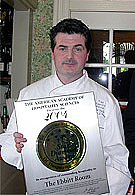 When it comes to restaurants such as the Ebbitt Room, they don't make them like this anymore. They built this one in 1879 and completely renovated it in 1989. Located in a boutique hotel (24 rooms) the Ebbitt Room was named after the original owners, Alfred and Ellen Ebbitt.
One of the great words in the restaurant business is ambiance (some choose the spelling ambience, which is just as acceptable). It is basically a more interesting word for atmosphere, but in my mind, there really is no definition for true ambiance, because it's a subjective thing. It's a lot like art, and has to be appreciated on a personal basis. I know what ambiance is, but I can't always describe it. I am certain of one thing - The Ebbitt Room has ambiance all over the place, and words like charming, sophisticated and classy are only a part of it.


---

The full version of this article is now available on Restaurant Report's membership site RunningRestaurants.com.

Click here to go to the article page.

---
Copyright © 1997-2020 Restaurant Report LLC. All rights reserved.