Philadelphia's posh and popular Monte Carlo Living Room & Club enjoyed an incredible twenty-five year run pretending it wasn't located on South Street (the "hippest street in town"). This upscale, fine-dining concept was somewhat of an enigma in an area where tee-shirts and jeans prevailed, and with the most popular choice of food and drink being cheese-steaks and whatever was on tap. It may have been out of place, but it's culinary excellence was well noted, and the man in the kitchen for over twenty years was chef Nunzio Patruno.
Nunzio was born and raised in Italy's agricultural region of Puglia, and he grew up in the town of Castellana Grotte located just minutes from the Adriatic Sea. His family farm sold olives, cherries, almonds, and various fruits and vegetables to local co-operatives. He earned his degree as a culinary chef and spent years working in the resort area of the Italian Riviera that eventually lead him to a seven-year stint in the French principality of Monaco. He arrived in America in the early 1980's as part of a group that opened five restaurants in the Philadelphia area including the appropriately named Monte Carlo Living Room.
One can speculate on why a particular restaurant becomes so successful, but the people who knew (the chefs of the city) understood that the Monte Carlo Living Room was blessed with an extremely talented chef, and Nunzio was recognized as one of the top chefs in the area.
An eventual group struggle resulted in the departure of chef Patruno, and suffice it to say, it was not exactly a happy ending (for the chef or the restaurant). The year was 2003, and the restaurant stayed open, but things were never going to be the same. It's a powerful message concerning the role of an exceptional chef. The owners sleep well thinking it's the restaurant while in all actuality, it's possible that the most important person on the planet might be their chef. The restaurant struggeled to re-invent itself, but new chefs, a new menu, and a new look could not replace a great chef. The Monte Carlo Living Room closed its doors in 2007, presumably forever.
I had the opportunity to catch-up with Chef Patruno in his beautiful new restaurant, appropriately named Nunzio Ristorante Rustico in Collingswood, New Jersey...
RR: Nunzio, you enjoyed so much success for so many years in the City of Philadelpia. Why start your new life in any place but Philadelphia?
Chef: Very simply put, Collingswood wanted me here, and I happen to live in New Jersey. I have been here for five years, and it was the best decision I could have made. I had a bad experience and I was determined to never allow myself to be in that position again. I gave it a lot of thought and concluded that it was time to do the exact opposite of what I was doing. Partners to no partners; fine dining to something more casual; the big city to a small town; an intense wine program to a BYOB; everything became the opposite.
RR: It sounds like you took this from the Seinfeld episode when Jerry convinced George to do the exact opposite because nothing was working.
Chef: It was more serious than a television show. This is my life I'm talking about, and I wanted it to be significantly better. There are times when I miss the city, but so many of my customers have crossed the bridge and they continue to support me. There is nothing more gratifying than that. I also have no desire to return - I am very happy in Collingswood.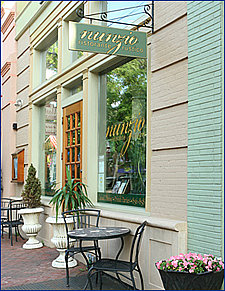 RR: I think it's fair to say that Collingswood, New Jersey will not be mistaken for Manhattan, or Philadelphia for that matter. You are now working on a much smaller stage which lacks things like publicity and especially the numbers of potential customers.
Chef: First of all, Collingswood is a great restaurant town. It's a dry town so every restaurant is a BYOB. It's easy to get to and people come from all over. The real answer to your concern is found in my hometown of Italy. It doesn't get smaller than that, and it's still a beautiful thing.
RR: Five years is serious time, and in-spite of so many that predicted your return to the city after a year or so, what are the real differences as it relates to your restaurant life?
Chef: I'm doing exactly what I want to do. My food is simple, fresh, and affordable, and that's what great Italian cooking is all about. My restaurant is patterned after the restaurants of my hometown, Castellana Grotte. I personally buy my own produce, and so much of it comes from the farmer's market right here in Collingswood. We make our own bread and desserts. Everything is fresh and it's all about the best seasonal ingredients.
RR: You just reminded me of that early review by Craig LaBan of the Philadelphia Inquirer. He almost seemed disappointed with your Collingswood presentation.
Chef: He was clearly expecting a Monte Carlo experience and I understand that. My new restaurant is not, and will never be the same as the Monte Carlo Living Room. That's not what we do. People in Collingswood don't expect to pay three-hundred dollars for dinner, nor should they. Some of my customers from the city had a similar reaction because it wasn't Monte Carlo. I can't worry about it. My guests appreciate what we do, and that's what's important to me right now.
RR: I know you make it a point to return to your hometown for a few weeks every year. May we assume this has continued?
Chef: The answer is yes, and I just returned and I'm happy to report that absolutely nothing has changed. Everything is exactly the same, and I guess that's a good thing. Your question leads me to yet another reason for my comittment to Collingswood. I have a great staff in my kitchen as well as the front of the house. It's back to that quality of life thing. I can spend quality time with my family and we don't miss a beat. That means a lot to me. Report me as alive and well in Collingswood, New Jersey. I plan to be here for the long haul.
Nunzio Ristorante Rustico
706 Haddon Avenue
Collingswood, NJ
(856) 858-9840
www.nunzioristoranterustico.com