Robert Irvine – A Chef on a "Mission"...
By Bob Bickell


"People who say it cannot be done should not interrupt those who are doing it"
George Bernard Shaw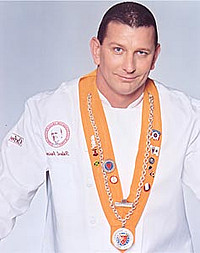 The multi-talented, British-born, energetic chef who looks and behaves like an NFL linebacker has cooked for Kings, Queens and Presidents all over the world including a stint on the Royal Yacht, Britannia. His travels took him to consult in Bali, Jakarta and Ho Chi Minh City before choosing his next challenge on board cruise ships including the SS Merdian, the MS Norwegian Crown and the world-famous, five-star MS Crystal Harmony. In 1996, he joined the Renaissance Hotel Group in Jamaica, and one year later moved to the Trump Taj Mahal, in Atlantic City as the executive chef, and eventually on to Caesars and Resorts in the same capacity.
Robert has departed the casino industry and is now involved in his own multi-faceted company, The Irvine Group. The company specializes in several areas including national television and media production, food and non-food development, retail food shows, live cooking demonstrations and consulting on domestic and international event planning.
Combining his culinary talents with his unique charisma, flair and wit, Chef Robert is natural on camera, appearing on numerous national, regional and local food shows and is presently featured in a new series on the Food Network called "Dinner Impossible". Each week, Robert and his real-life sous chefs (George and George) are asked to solve a culinary curveball and prepare an "impossible" dinner before the time runs out. It has quickly emerged as one of the most creative and interesting shows on the always-popular Food Network.
Let us not forget that this industry is all about great food, service and ambiance. It's also about talented and extremely passionate people who absolutely love what they do. Robert Irvine is one of them, and look for the good chef to soon open two exciting restaurants called Ooze and Schmooze in St. Petersburg, Florida.
---
Top 50 Food Sites | Articles | E-mail Newsletter | Great Debates | Q & A
Buyer's Guide | Marketplace | Job Opportunities | Contact Us | Home
---
Copyright © 1997-2020 Restaurant Report LLC. All rights reserved.