Get 100 Free Direct Mail Pieces to New Movers in Your Neighborhood!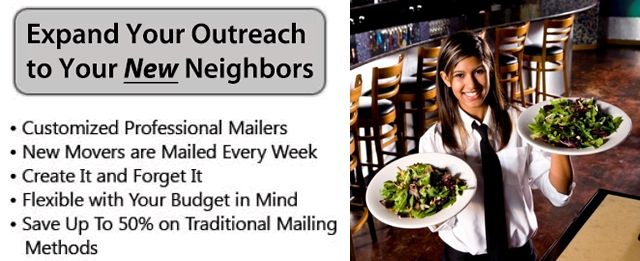 Why sign up today for the Patria New Mover Program?
SIMPLE & TURN-KEY - your resources are limited and your time is too valuable...we understand!

TIMELINESS - weekly mailings derived from databases of new movers identified the prior week in your footprint

FLEXIBILITY - you select YOUR target area and marketing message - change it at any time (holidays, etc.)

NO HIDDEN FEES - No set-up fees...No minimum volumes...No monthly fees - choice of a letter or postcard

SIMPLE PRICING - fixed solicitation price - (all data, modeling, printing, fulfillment & 1st postage included)

EFFECTIVE & RESULTS-DRIVEN - Right offer to the right customers at the right time = more sales and clients

Contact us today to get your 100 free direct mail pieces!
Darryl Asbury - (302) 824-7275 x104 - darryl@mypatria.com
Mention "Restaurant Report Special"

Contact us today...this special free trial offer ends soon...