A detailed step-by-step guide to the most popular small business accounting software program. Written exclusively for restaurant operators, in a jargon free and easy to understand style. The author, John Nessel, a twenty-five year veteran of the restaurant business and currently a restaurant consultant, is a Certified QuickBooks Advisor and has been using QuickBooks since 1994.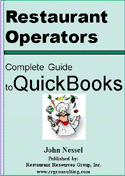 Includes "ready to use" QuickBooks company files for both full service and quick service restaurant operations. Each file utilizes the Uniform System of Accounts for Restaurants format along with numerous customized features, entry screens, memorized transactions and reports, all designed to get you "up and running" quickly and accurately!
The guide also includes operating ratios from the 2001 Restaurant Industry Operations Report to help you analyze your Operation.
---
"The QuickBooks guide is awesome! I was familiar with a lot of the procedures but I can tell you that I will be using the Full Service Chart of Accounts and input procedures described. I knew I was doing things "wrong" but I just wasn't sure how to clear it all up and your guide has helped tremendously."
Josh Devane, Devane's Italian Restaurant, Indio, CA

"Restaurant Resource Group provided me with priceless information and guidance, enhancing my current QuickBooks/Excel system. Johnís approach to QuickBooks is streamlined and to the point, and his ability to write a software/accounting guide that is down-to-earth and informative is cleverly entertaining. Yes, I said entertaining...It's obvious he has done his homework! Grazia! "

David Militello, Tello's Trattoria, South Haven, MI

"John Nessel's guide turns QuickBooks into an ideal restaurant accounting program. It's logically organized, easy to follow and covers almost any possible contingency. This book will save you time and will keep your accounting headaches to a minimum. This has been one of the better purchases I've made!"

John Agress, Tropical Treateries LLC, Estero, FL

The table of contents:
INTRODUCTION
Welcome
A Note About Different Versions of QuickBooks
Are You a New or Current User?
The Enclosed Ready to Use QuickBooks Files
How the Book is Organized
GETTING STARTED
Chapter 1 - A Restaurant Accounting Primer
The Purpose of Accounting
The Chart of Accounts
The General Ledger
Financial Reports
The Balance Sheet
The Profit & Loss Statement
Accounts Payable (A/P)
Accounts Receivable (A/R)
Cash versus Accrual Accounting
Double Entry Accounting
Debits and Credits
Sample Restaurant Transactions
Chapter 2 - A Tour of the Software
Restore One of the Enclosed QuickBooks Files to Your Computer
Quick Tour of the QuickBooks Desktop
The Task Windows
QuickBooks Lists
QuickBooks Reports
Chapter 3 - Setting Up Your Company File
Choosing Your Preferences
Input Your Basic Company Information
Your Chart of Accounts
Your Item List
Is the "Class" Feature Useful for Your Operation?
Your Vendor List
Your Customer List
Other Names List
A Note About the Employee List
Chapter 4 - Choose a Start Date
New Restaurants
Start at the Beginning of the Year
Start at the Beginning of the Next Month
Information You Need for Jan 1 Start Dates
Additional Info Needed for Mid Year Start Dates
Chapter 5 - Entering Your Beginning Balances
Entering the Balance Sheet Account Balances
Enter Unpaid Bills as of the Start Date
Enter Uncollected Invoices as of the Start Date
Enter Every Transactions Since the Start Date
Enter Year-to-Date Income and Expense Summary
BASIC BOOKKEEPING TASKS
Chapter 6 - Paying Your Bills
The Enter Bills/Pay Bills Method (A/P)
The Write Checks Method
Organize Your Bill Filing System
Chapter 7 - Record Your Daily Sales & Deposits (includes)
Restaurants are Different
Record Sales Into QuickBooks from Your POS Reports
What Information to Record
Accounts Used to Record Sales & Deposits
Record Your Sales Using the General Journal
Sample Daily Sales and Deposits Entry
Final Thoughts on Entering Your Sales and Deposits
Chapter 8 - Create an Invoice & Record a Customer Payment
Create an Invoice
Controlling the Sales Tax on Your Invoices
Receive the Customer Payment
Chapter 9 - All About Payroll
Outside Payroll Services
How Payroll Services Handle Payroll Tax
Use Your Checks or Theirs?
Payroll Frequency
How to Record Staff Wages
Making the Payroll Entry into QuickBooks|
Some Sample Memorized Payroll Entries
Should You Use a Separate Payroll Account?
SPECIALIZED BOOKKEEPING TASKS
Chapter 10 - End of Month Inventory Adjustments
The Importance of Taking Inventory
Defining Food & Beverage Costs
Segregating Food & Beverage Costs by Category
How to Make the Inventory Adjustment in QuickBooks
What if You Have Not Tracked Inventory in the Past?
Chapter 11 - Other Cash Accounts You Need
The Petty Cash Account
The Cash Drawer Account
The Tip Float Account
Chapter 12 - Using Prepaid Accounts
What is a Prepaid Account?
A Detailed Example
Chapter 13 - Pay Your Meals Tax
Make Your Sales Tax Preferences
How Much Tax Do You Owe?
Use the Customized Meals Tax Due Report
Chapter 14 - Reconcile Your Checking Account
Clear Your Checks First
Clear Your Other Payments Next
Clear Your Bank Deposits & Credit Card Receipts
Un-Matched Amounts
Use the Find Feature
Finish the Process
If Your Beginning Balance Does Not Match the Statement
What if You Can't Reconcile the Statement
Your Last Resort
Chapter 15 - Misc. Tasks and Adjustments
Deleting versus Voiding a Transaction
Finding a Transaction
Recording Depreciations of Fixed Assets
Issuing 1099ís to Vendors
How to Deal with Bounced Checks
Tracking Your ATM and Debit Card Expenses
How to Deal With Programs Like "iDine"
Account for Employee Meals
Trading Meals for Outside Services
Credit Card Purchases
Customer Credit Card Chargebacks
Recording Your Loan Payments
Recording Depreciation of Fixed Assets
Use Memorized Transactions for Recurring Bills, Checks and GJ Entries
Using the QuickBooks Budget Feature
Delete vs. Voiding Transactions
CREATING QUICKBOOKS REPORTS
Chapter 16 - Vendor and Accounts Payable Reports
The Vendor Reports
The Account Payable Reports
Chapter 17 - Basic Financial Reports
The Balance Sheet Report
The Profit and Loss (P & L) Statement
Statement of Cash Flows
MANAGING YOUR QUICKBOOKS FILE
File Back Up Procedures
How to Perform the Back Up
Restore Your Back Up File
Condense Your QuickBooks File
Verify and Rebuild a Company File
APPENDICES
A. Full Service Restaurant Chart of Accounts
B. Quick Service Restaurant Chart of Accounts
C. Advantage Payroll Service Report
D. PAYCHEX Payroll Report
E. Sample Quickbooks Financial Reports
F. National Restaurant Association Operating Report Data