A Conversation with Mr. David Rosengarten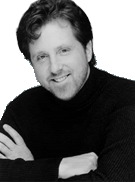 The man is a journalist, author, restaurant critic, teacher and TV chef. Most importantly, David Rosengarten is passionate about food and wine. He reaches millions of American homes each week with insights and opinions on what makes food both fun and so fascinating.
The New York Times praised Taste, noting that "Mr. Rosengarten has re-conceived the idea of what a cooking show can be." New York magazine said, "Rosengarten takes one topic and goes as deep as he can, sometimes tossing in a pinch of chemistry and food science, often showing failed versions of the dish in question.
Gourmet magazine's former restaurant critic and current contributing editor, David feels that the most important element in restaurant reviews is accurate and precise identification of a chef's style. His articles on food, wine and travel—including hundreds of original recipes—have appeared in The New York Times, Newsday (where he was the weekly wine columnist from 1988 to 1993), Food & Wine, Bon Appétit, Harper's Bazaar, House Beautiful, Business Week, New York's Daily News, Wine Spectator and more.

RR:You have to pleased with your career as well as your celebrity status. Is this a case of being in the right place at the right time?


---

The full version of this article is now available on Restaurant Report's membership site RunningRestaurants.com.

Click here to go to the article page.

---
Copyright © 1997-2020 Restaurant Report LLC. All rights reserved.