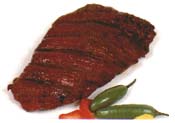 This very strange looking bird has long been appreciated for its beautiful, sort of polka-dotted skin which is transformed into luxurious handbags and shoes. Even though Europeans have been eating ostrich for years, and have long appreciated the merits of ostrich as an alternative to red meat, it wasn't until the early 90's, when the bans against imports from South Africa were lifted, that Americans were really exposed to this product. Now there are ostrich farms located throughout this country, particularly in the West and the Southwest due to their more favorable climatic conditions.
With its low fat and cholesterol, and mild beef-like taste it's being highly touted as a healthy alternative to the meat from cattle. Displaying statistics (U.S.D.A. Agricultural Handbook) that reveal ostrich meat as lower in fat and calories than turkey, chicken, pork, and of course beef, ostrich is now clearly considered as one of the proteins of choice for heart and other cholesterol-sensitive patients who miss the flavor of "red meat", but are skittish about the side effects.
Executive Chef Louis Imbesi of Catelli Ristorante & Café in New Jersey, takes the subject of ostrich very seriously with a lunch entree and at dinner, both an entree and an appetizer. "Because of its low fat content, ostrich cooks faster than other higher fat meat products. It should be cooked to medium rare but not more than medium to optimize flavor and moisture retention. Cooking ostrich meat to well will result in a dry product with a slight liver-like after taste."
Chef Imbesi recommends a high heat, quick cooking method like grilling, broiling, pan searing or sautéing. "And ostrich that is to be grilled or broiled can be marinated to add flavor and retain juices." Using only prime cuts, he begins by placing the ostrich portioned appropriately for lunch, dinner and appetizers, in a marinade that consists of garlic, fresh thyme, rosemary, parsley, peppercorns, Dijon mustard, red wine, olive oil, and Balsamic vinegar.
"The ostrich marinates for a minimum of 12 to 24 hours, and is then grilled to order. Once it's grilled, it's braised with Dijon mustard and coated with a mixture consisting of pistacius and fresh herbs, and then cooked in the oven until done. I allow the meat to rest for 4 to 6 minutes, and then slice it against the grain and serve it with a wild mushroom risotte, mixed organic greens, and a whole grained mustard demi-glaze."
Jim Jenkins, a representative for Brandywine Meats of Escondido, California, offers the following: "the acceptance is very strong among diners who have tried it, but we realize that ostrich is unfamiliar to most Americans. The bird is a relative newcomer to this market, and right now, getting people to try ostrich is really our main goal. This product will be a major success for two basic reasons - if prepared properly, ostrich is absolutely delicious, and health consciousness is so critical to our society, and the health benefits of ostrich are so overwhelming, that it's simply a matter of time. We call it "the red meat of the future" and I strongly believe that ostrich, like the turkey, is destined to become a significant factor on the American dining scene."

ALL YOU EVER WANTED TO KNOW ABOUT THE OSTRICH, AND MORE

The Ostrich is one of the oldest living species at 120 million years and when fully grown, they have one of the most advanced immune systems known to mankind.

The ostrich is a grazing animal indigenous to Africa, where they have been raised commercially for more than 100 years. South Africa alone accounts for more than 90% of the world's ostrich population.

The ostrich (the largest bird alive today) grows up to 8 feet tall and weighs 250 to 350 pounds - does not fly, but it can run--up to 40 miles per hour (and maintain that speed for 30 minutes). The ostrich is part of the ratite family of flightless birds, which also includes the emu and the rhea.

They can live to be 70 to 80 years in the wild and can reproduce for at least 40 years.

They have excellent eyesight and because of the placement of their eyes, ostrich have a very wide viewing angle. They can see in all directions at once, except directly behind their head.

Ostrich eggs are very tough, and are the largest eggs of any bird alive today. They weigh between three and six pounds. African natives even use them as canteens.

The Ostrich can yield 100 pounds of fat free red meat in a 10 month period using 200 pounds of feed. The gestation period is 42 days. The birds reach their slaughter size in 10 to 12 months. They reach breeding age in about 2 years. A good breeder may produce 50 to 100 eggs in a season.

The average ostrich yields between 75 and 100 pounds of meat, 12 to 16 square feet of leather and 3 to 4 pounds of feathers. Ostrich feathers have unique properties that make them very desirable for dusting, and some automobile manufacturers use them to dust cars before painting.

The United States currently imports around 100,000 ostrich hides per year for leather goods such as quill boots that can sell for several thousand dollars per pair.

The ostrich has the best feed to weight ratio gain of any land animal in the world. They are successfully farmed in at least 50 countries - from the coldest climates of Alaska to the equatorial areas of central Africa. Ostrich farming is one of the most open, free range farming alternatives available anywhere in the world today - on average a trio of Ostriches require about two thirds of an acre to breed and run around in.

Ostriches are not an endangered species - there are more than 1.5 million worldwide.

The ostrich does not put its head into the sand; it lays its head on the ground.
---