Should we voluntarily ban foie gras in our restaurants?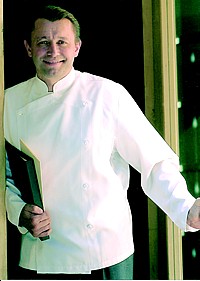 We invited Chef Laurent Manrique to grace our cover and speak on the subject of foie gras in the United States. The good chef politely declined, and understandably so. He has seen enough regarding this French delicacy to last a lifetime, and while government types all over the world are looking to place the production of foie gras in the history books, there are people out there intent upon doing it their way. Call it what you will, but an appropriate name would be "domestic terrorism". These are the folks who will do anything to protect the ducks and geese of the world, and violence against this San Francisco chef was part of their plan.
They spray-painted his home; they poured acid on his car; they sent him threatening letters to go along with their threatening phone calls. They attacked and damaged his place of business. Chef Manrique has earned the right to pass on our suggestion to speak on this issue, and respectfully we have turned to other chefs to present their views. It is important to note that this chef of Aqua in San Francisco, still has foie gras on his menu.
Some people are tired of talking about it, but the foie gras debate has really just begun. They banned it in places like California (beginning in 2012) and Chicago, and while these bans are significant victories for the anti-foie gras sector, they won't be satisfied until it's banned worldwide. It's highly possible that this is precisely what is going to happen.


---

The full version of this article is now available on Restaurant Report's membership site RunningRestaurants.com.

Click here to go to the article page.

---
Copyright © 1997-2020 Restaurant Report LLC. All rights reserved.