Silverstone Rediscovers B&G
by Phillip Silverstone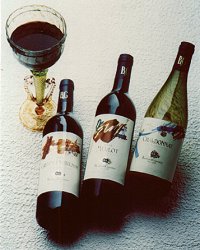 When I first arrived in the good old US of A almost a quarter century ago I had no idea where my saunter through life would lead. However, my first stop was slated even before my BOAC (may they rest in peace) hit the dilapidated edifice known in those days as Philadelphia International Airport. An old hangar crudely converted into an international airport terminal did not instill confidence in a young English lad arriving in the land whose streets were supposedly paved in gold. If a third world structure was posing as an international terminal, maybe the stuff about gold was merely propaganda projected by Hollywood at my local Odeon cinema. Anyway, my immediate destination was a liquor store in New Jersey, owned by my late father-in-law, himself something of a dilapidated edifice, who dominated the post prohibition Jersey liquor industry for 50 years. He owned two stores, the former in Barrington, and the latter, where I was incarcerated for the next 3 years, in Lawnside.
So here I was, a 24 year old, working 15 hours a day, 6 days a week, 52 weeks a year, and bored out of my brains. After the first month, I considered self mutilation, by the end of the year I had sent Fidel Castro a marriage proposal, and within 18 months I was seeing a therapist, who suggested it was all a bad dream and I'd wake up in a shower scene the following season. I was selling the same products to the same customers at the same time every day... products like Thunderbird, Schmidt's and Joe Ortliebs Beer, Boones Farm, Lancers Rose and Four Roses, not to mention Planters Peanuts (salted) and Lucky Strikes. There is a crucial moment when one's intellectual motors slowly grind through their gearbox until they stall, then your oil dries up and your dipstick drops off.
Bleak though this may all sound, during the dog days of the 70's something wonderful happened in this country. A chap called Bob Mondavi and a couple of brothers called Ernest and Julio Gallo began educating the masses on the benefits of drinking alcoholic beverages made from grapes (as opposed to apples, pears and whatever matter Manischewitz squeezes into those square bottles). While I was learning to live in America, and suffer disgusting beverages with deficient quality and ample alcohol, a curiosity for wine was surfacing throughout the baby boomer generation. Blue Nun, Mateus, Riunite, Pink Chablis, were names becoming common place in liquor stores and on wine lists. And then the inevitable happened. French wines were discovered. Wines which came from the most respected vines in the galaxy. Wines actually made from real grape varieties. Wines produced with tender loving care. Wines which carried the scent of garlic and Gauloises....OK so I was slightly delusional. Among the wines arriving on our shelves was a brand called simply B&G - Barton & Guestier. These wines were not only fabulous, they were seriously affordable.
And so it was, back in those halcyon days when John Travolta's frame was modest enough to accommodate snug fit shirts and airplanes still served the kind of food you would permit to have intimate relationships with your stomach, I fell madly, deeply, head over heals in love with B&G wines, my salvation from an ocean of unpalatable, mediocre swill.
Some twenty years have evaporated, and several mid course corrections have altered my journey on the roller coaster ride through life. It has been 18 years since I sold wines in a liquor store and I now reach millions of people through my multi media activities. So much in the world of wine has changed, so many brands have disappeared (and a couple which I'd have happily sent packing are still with us) and life in Grapesville is somewhat more complicated as we near why-two-kay. So imagine my recent elation, while attempting to squeeze a Saturday Night Fever LP into the CD player connected to my eight track, when a package of wine arrived containing a really nifty label with a familiar name - B&G. While I was wasting my life label surfing the esoteric hyped up designer-driven world of wine, B&G were happily peddling their wares to their loyal followers. And I am ashamed to admit that I strayed, indeed I was unfaithful to my first true wine love. Yet here on my doorstep, was this old friend extending a forgiving cork...giving me another opportunity to fall in love all over again. Overwhelmed with uncontrollable excitement, I popped it's cork and watched the nectar flow, it's provocative perfume eliciting recollections of our first rapturous encounter.
But this is not the B&G I had expected. Not some relic of a past life released from the slurp and spit hall of fame. This is a happening range of varietals ready to take us into the next Millennium: New cool labels, grape names written in English and grown in the vineyards of my favorite French region Languedoc-Roussillon. And the price: $7.99!! Perhaps somebody forgot to tell them wide lapels and bell-bottoms are out and Jimmy Carter ain't the Prez no more! Just as the clouds of boredom in my life were dissipated by the arrival of B&G in the 70's, the brand has made an equally welcome reappearance into my world two decades later. The wines taste better than ever and their price is more 70's than 90's...hey, I might even learn The Hustle again!
I knew very little about B&G's origins, so I was intrigued to learn that the company's history corresponds with the same time line of my adopted country. Barton & Guestier is one of the oldest and most prestigious wine negociants in Bordeaux - a company whose history is inextricably woven into the very fabric of France's legendary wine history - the firm was established in 1725 by Thomas Barton of Curraghmore, Ireland. At the time, Ireland was one of the largest export markets for Bordeaux wines, and Barton made a pilgrimage to the Medoc to seek his fortune as an exporter of these great wines to his homeland. It was a move that coincided with a tremendous boom in Bordeaux exports. Nicknamed "French Tom" he quickly earned the respect of winegrowers in Bordeaux, and was one of the first negociants to purchase vineyards in the region as a way of improving his wine quality and consistency (the Barton family still owns and operates the classic Langoa Barton and Leoville Barton Chateaux in Bordeaux.)
As Thomas Barton was turning the reins of his company over to his son, William, a young Frenchman by the name of Daniel Guestier was earning a reputation as an importer of Bordeaux wines into Baltimore, in the British colonies in America. Guestier's lineage was an ideal preparation for his career. His grandfather was a French Royal Navy officer, and his father managed both Chateaux Lafite and Chateau Latour for the Marquis de Segur. But for Daniel Guestier, the wine importing business turned out to be rather more exciting.
It was Guestier who built a series of extremely fast ships, including the legendary "La Grande Nancy", to run the British blockade of the colonies during the American Revolution. And it was Guestier who delivered the wines of Bordeaux that President Thomas Jefferson had ordered from the well-respected negociant. Thomas Barton's grandson, Hugh, took over the company just at the time when the French were revolting (their table manners have improved somewhat since then), and he was arrested by the Revolutionary Committee for "having dealings with the enemy". His company was closed and Hugh Barton was given an appointment with the guillotine, although one would assume he tried to change it for one with a manicurist.
Only the courage and ingenuity of his wife, Anna, allowed him to escape, dressed in the women's clothing she had smuggled into the prison (these days B&G indulges in cross promoting but appears to have abstained from cross dressing). Hugh and Anna spent the next seven years in their ancestral home in Ireland. Daniel Guestier, whose own dealings with the revolution were much less incendiary, managed the company in his friend's absence and was quite successful. The result was a partnership that was built on extraordinary trust - the two worked without any written agreement until 1802, and then renewed this contract for 28 years with a simple exchange of letters "I'll give you my "B" if you let me have your "G".
While the Bartons purchased Chateaux Langon and Leoville, Daniel Guestier bought both Chateaux Batailley and Beychevelle. The two men had clearly made their mark on some of the greatest wines in the world. The two families continued to manage the company for more than two centuries. In the 1950's they asked the Seagram group to take a role in the growth and management of the company. While Ronald Barton remained at the helm until 1986, majority ownership passed to Joseph E. Seagram & Sons upon Ronald's death in 1986.
As the company grew, it expanded both its markets and sources of supplies. And the list of wines has also grown, to include a broad range of classic wines from the greatest wine regions of France: Bordeaux, Burgundy, Beaujolais, Cotes du Rhone, and the Loire.
The winemaking staff of Barton & Guestier continues to place tremendous importance on the vineyard. Relationships with key growers are carefully maintained, and the company works with these growers to make sure the grapes meet the standards of Barton & Guestier. Any grapes or wines that do not meet these stringent quality standards are simply not accepted. The production technology at Barton & Guestier is among the most sophisticated in the world. A stunning array of stainless steel, new oak cooperage, and computer monitoring equipment allows each lot of grapes from each region to be treated with the care and precision that great winemaking requires.
Innovative marketing is, as always, a strength of Barton & Guestier. The introduction of an exciting line of varietal wines is now about to reach a whole new audience in America:
1997 Cabernet Sauvignon. 750 ml $7.99 / 1.5L $13.99 *
Deep purple with ruby highlights. The nose is quite typical of Cabernet Sauvignon dark berry fruits (black currant, black raspberries) and green peppers. Good fruit and structure on the palate. The tannins are firm, but not bitter. A well-balanced wine with a long peppery finish.
1997 Merlot. 750 ml $7.99 / 1.5L $13.99*
Brilliant garnet red color. An expressive nose of raspberry and cherry fruit. On the palate, this wine is dominated by ripe red fruit and licorice flavors and is rich in soft tannins. A long and extremely smooth finish.
1997 Chardonnay. 1.5L $13.99*
Straw yellow color with golden green highlights. A very intense, elegant and aromatic wine, with honey, ripe golden apples and floral aromas. Round and smooth with good acidity, the wine is well-balanced. The finish is long with nice floral and honey flavors.
The 1997 vintage was unique: spring was very hot and dry; summer was cold and rainy. This was followed by extremely hot and humid weather in September. Because of the heat and humidity, the grapes achieved more mature flavor than normal but with a lower proportion of sugar. The Cabernet Sauvignon had a long ripening period and was harvested in the beginning of October, later than Merlot and Syrah. Merlot in 1997 benefited the most from the conditions because it was harvested earlier than Cabernet Sauvignon (during the first two weeks of September). The color of the white wines in 1997 is more evolved than usual, resulting in straw gold highlights.
I hope you enjoy these wines. If you weren't around in the Seventies – I hate you!! But seriously, experience them for the first time and be amazed. If you were around in the Seventies, well, old timers discover these wines again and in the words of the other BG's - we're lucky 'cos we're: "Staying Alive, Staying Alive......................"
---
Phillip Silverstone writes and hosts syndicated radio and TV wine features. His book, "Cheers! The World of a Wine-osaur" (Camino Books, $12) is available in bookstores everywhere. Phillip can be reached via e-mail at: winechap@pond.com.
---
Copyright © 1997-2020 Restaurant Report LLC. All rights reserved.