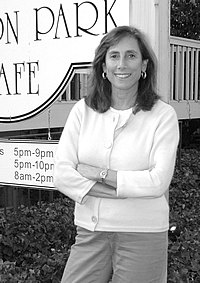 Karen Binder originally opened Madison Park Café as a coffee and tea room in 1979. Over those twenty-seven plus years the Café has grown into a quintessential neighborhood café, serving some of Seattle's finest French bistro dinners. Having won numerous accolades including "Best Restaurant to Eat Outdoors," by Seattle Weekly; "Best Outdoor Brunch Dining," by Sunset Magazine; "Top Ten Brunches in Seattle" by Citysearch, Madison Park Café continues to impress both locals and visitors alike. We had a chance to sit down with Karen and talk about the past, present and future of the café.
RR: Karen, you've owned Madison Park Café for 27 years now, how has the business changed for you over that time as a woman owned restaurant operation.
KB: I think the most unusual thing about my business is that it has undergone changes conforming to the changes in my life. When I opened the café I had no children. I was able to work until 3 days before my daughter's birth (she's now 25 ½). I changed the hours of operation of the café so that I could drop her at childcare, zip to the café and open for breakfast and lunch from 8-2, then pick her up and have the afternoon and evenings with her. As my children got older and their school days got longer, I stayed open later in the afternoons, until 8 years ago when I became a dinner house and closed for weekday breakfast and lunch. It's unlikely that a man who owns a restaurant would have modified his business hours to conform to parenting needs.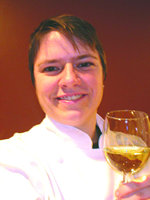 RR: Amanda Zimlich heads your kitchen now. What are some key differences you've seen in male led vs. female led kitchens?
KB: In the years that we've been a dinner house I've had 2 female and 3 male chefs. From that experience I can say that with women chefs, there's room for other people's egos besides theirs in the kitchen. Women cope much better with a woman owner perhaps because it's easier to create camaraderie among women. The relationship between a woman owner and female chef is facilitated by the ability to discuss things. Criticism is less harsh, egos are bruised less quickly, discussions are less heated and apologies come more quickly. Also the women chefs are less bossy than the men.
RR: Why do you think there aren't more top female chefs?
KB: Being a chef is exhausting with hours that are incompatible with the historical more traditional female life. It certainly is extremely difficult to be a mother of a young child and keep the evening and late night hours that are consistent with most restaurant chef positions. There are many great women chefs in Seattle, who have chosen to not marry, marry and not have children or have relationships with partners who are more accepting of the lifestyle. Many talented women in the industry become private chefs, academics or writers so that they can still do what they excel at, what they are passionate about and still have families.
RR: Your current chef, Zimlich, is a graduate of New York's Culinary Institute of America. How important do you think the education piece is for a chef? And how important is the prestige of the institution to you as an owner/operator?
KB: Three of my 5 chefs had no formal culinary training, which I suppose indicates that it's not a prestige issue with me. I do think that Amanda, in particular because of her culinary education, is an excellent teacher of her skills. She also has a greater scientific understanding of why things work the way they do in cooking: why bread rises, how to fix a curdled sauce, why hard eggs turn gray around the yolk etc. While most of us learn these things by trail and error, I think having been through a rigorous culinary training program gives one a good, holistic approach to being a chef.
RR: How did you come about hiring Amanda? Really what I mean here is how do you (and have you) recruit and hire as an independent operator?
KB: I placed an ad on Seattle's Craig's list and Amanda answered it! I got lucky! In the past I've used StarChefs.com and have received 80 applications form all over the world which took hours to triage. On Craig's list the only folks who replied were local, wanted to stay in Seattle and all knew about the café, so the pool was small but concentrated with good prospects. I also always send out a networking query to all my restaurant friends.
RR: From an owner/operator/chef perspective the restaurant business is decidedly male dominated. What advantages or disadvantages has that aspect had for you?
KB: For the first 20 years in business, the most frequent comment I received about my owning the restaurant was "what a great hobby this must be", or "I've always wanted to own a restaurant". I'm sure neither comment would be made to a male restaurateur! As in most professions, women are taken much more seriously now, and I think the fact that we've been in business 27 years brings with it a modicum of respect from other restaurateurs and others in the industry. I've been guilty myself of the old prejudices since until recently I've never considered myself a "success" but by what other measure besides longevity and personal happiness should success be measured? Financially, well, that's a different story.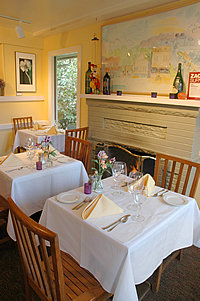 RR: In 1999, you became a dinner only operation (along with Sat/Sun brunch), how has that changed the marketing and positioning of your restaurant?
KB: Because we've been doing weekend brunch for 27 years, I'm afraid we will always be regarded as a brunch spot. We've won awards from Sunset magazine, the local Seattle papers, Citysearch, etc., for our brunches but my heart is really in the dinners. It has been a struggle to reorient the public to the café being a dinner house but it's happening. And we've just been invited to cook at the James Beard House in NYC so I think our credibility is cemented.
RR: Talk about the financial business decision to solely focus on dinner after operating as a breakfast and lunch spot for so many years.
KB: Since the café is primarily a neighborhood restaurant, our breakfast and lunch customers were generally local women, as opposed to the weekend when we're filled with couples, families and before sports events crowds. I think unless you're in a busy downtown area, the income for breakfast and lunch is minimal, but because we had been doing it so long, I felt I couldn't change. When my financial situation changed after divorce 10 years ago, I needed to rethink the café and make it more profitable and also make it a place where I could derive greater personal joy, hence the blossoming of my wine career and the start of dinner business. Truthfully, our burgeoning catering business, which we've continued for the 27 years, helps support the dinner business.
RR: What's more important in your opinion: Food, service or ambiance?
KB: Gee, that's a tough one. Greatness in only one of the three can't make for a great restaurant. Speaking for the café, our ambiance is wonderful since we're located in a small and intimate 1926 home in a terrific old Seattle, neighborhood. And Amanda is the best chef we've ever had and she works only with quality product so our food is on a par with anyone in the city. I would say our service is the area that we lack the most but we've had to make the adjustment from being a daytime joint to a sophisticated dinner house, not an easy transition. We've all had to learn the fine points of good service. Since our customers continue to return I'd say food is #1, ambiance #2 and service #3.
RR: How would you describe your "people skills" philosophy?
KB: I've been blessed with a very gregarious nature and the ability to read people. I'm the "front of the house" person and I keep my staff reminded of our need to greet guests at the door and be grateful that they've chosen the café for their evening dining. It comes naturally for me to be friendly and nurturing while still remembering that the guests are interested in one another not in me! I tell the staff that we can't exist without our customers and that with few exceptions the "customer is always right".
RR: What are some of your favorite local restaurants here in Seattle?
KB: Depending on what I'm in the market for I take my food-savvy kids (25 and 18) to a neighborhood Italian joint (Mamma Melina's) for a quick bite. I like Ethan Stowell's Union restaurant for quirky quality food, Barolo (a new sophisticated northern Italian spot downtown) for good food any time of day (weekend brunch, weekday lunch and delicious dinners with a fine, value-driven Italian wine list), Phil Mihalski's Nell's Restaurant for romance and great food.
RR: Do you talk with other independent restaurant owners? And if so, what about?
KB: We talk about the same old things that everyone who is a small business owner talks about…too much work, the difficult and ever changing labor market, new young restaurants that steal the spotlight for a while…the usual…
RR: What book is on your night table right now? What's it about?
KB: I'm a voracious reader and reading is also my "sleeping pill". When I crawl into bed at night, I read whatever my book group book is that month (right now it's Extremely Loud and Incredibly Close by Jonathan Foer (I've been in the same bookgroup for 31 years!). I'm also loving Julia Child's autobiography and Red, White and Drunk All Over by Natalie MacLean (my wine passion) and The City of Falling Angels by John Berendt…I'm a Venice devotée…
RR: What's next for Karen Binder?
KB: I'm a late in life mother so at age 61 I still have an 18 year old who is off to college in the fall as well as a daughter (25) who will be moving to Hawaii in a few months. I know I'll be terribly lonely without my children so I suspect I'll throw myself even further into the café for a few years. I've have begun to think about an exit strategy, though. During the past 27 years I've been fortunate to be able to purchase the house my café is located in, which will hopefully be much of my retirement fund. Then I'd like to leave the country for part of each year and work in the south of France around Nimes at a winery since I speak French and know a lot about winemaking and it's a beautiful region with lovely affordable wine. I'd also like to live in Venice for about 5 or 6 months and perfect my Italian. Then just wait and hopefully become a grandma…
Madison Park Café
1807 42 Avenue East
Seattle, WA 98112
(206) 324-2626
http://madisonparkcafe.citysearch.com



---