The Iron Starr Chef
By Bob Bickell
Back in the day (the 1970's) one could hope to find a Japanese restaurant in Japanese-American communities such as Hawaii and California. There were a handful of Japanese spots in the big cities, but most of these were the American version of real Japanese cooking. Today, it is a very different story because America fell in love with Sushi, and now Sushi bars and Japanese restaurants are more prolific than Starbuck's.
Had it not been for a mere shoulder injury, the great chef, Masaharu Morimoto might be playing for the New York Yankees instead of running a restaurant on 10th Avenue in Manhattan. The man was an outstanding baseball player while growing-up in Hiroshima, and an equally talented chef at his own restaurant in Japan. He moved to the United States in 1985 and eventually joined the prestigious Nobu team (Chef Nobu Matsuhisu and actor Robert DeNiro). His stint as executive chef at Nobu led to even more national exposure in the form of a new television concept called the Food Network. It's known as being in the right place at the right time.
America fell in love with the Food Network and almost overnight, chefs turned into celebrities and our restaurant scene catapulted to a whole new level. Star chefs became the big item and "The Iron Chef" became a gigantic success story. The talented and colorful Chef Morimoto and his rendition of globally inspired Japanese cuisine quickly became a major player on the modern American restaurant scene.
His talent and success did not go unnoticed by the newly crowned restaurant guru of Philadelphia. Stephen Starr was busy building restaurants and hiring some big names as consulting chefs such as Alex Rodriguez at Alma De Cuba; Alfred Portale at the Striped Bass; and Marcus Samuelsson at Washington Square. Chef Morimoto was looking to open his own restaurant and a chance meeting with Mr. Starr resulted in another spectacular Philadelphia concept. This one had the partner's name on the door, and in November of 2001, Morimoto opened on Chestnut Street.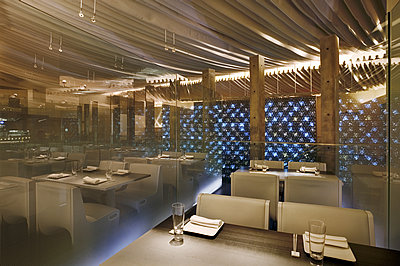 It proved to be an ideal marriage because both Starr and Morimoto think alike - they both see the restaurant business as theater. It's about food and entertainment, and ambiance plays a gigantic role. Visit any Stephen Starr restaurant and check out the "wow factor". When the seats at Morimoto are actually changing colors while you dine, you know that it's a lot more than just the food.
It was only a matter of time before Stephen Starr and Masaharu Morimoto decided to conquer New York. Morimoto considered his return to Manhattan as a "badge of honor". Philadelphia was great, but he had something to prove, and in February of last year, they launched the New York version of Morimoto. This one is a $10 million, 160-seat extravaganza, and now the celebrated chef is even busier driving up and down the New Jersey Turnpike making appearances in both his restaurants.
It wasn't too long ago that the good chef was frustrated - he was worried that he wasn't famous enough. The New York thing certainly helps, and what more can you say about the Food Network.
Morimoto
723 Chestnut Street
Philadelphia
215-413-9070

88 10th Avenue
New York
212-989-8883

www.starr-restaurant.com
---
Copyright © 1997-2020 Restaurant Report LLC. All rights reserved.