So, do you know the percentage of adult Americans that do not drink coffee?
This is a multiple choice question. Is it:
60%
50%
30%
25%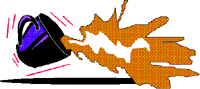 Don't worry, I'm not going to make you turn your computer upside down to find the answer - but I bet you'll be surprised when I tell you that it's fifty percent. Yup, that's right, one in two red-blooded Americans are delicately sipping on tea, or another non-coffee beverage. And if your business has the connotation of "coffee shop" in its name, at least half the people walking by will not want to enter your store.
Another interesting percentage is that 59% of all coffee is consumed during the breakfast hours. So once again, if you serve coffee, and do not open until 11:00am, you have only 40% of the market.
Coming back to non-coffee drinks, there has been a great interest in a beverage called "chai." Now the various companies marketing "chai" have done a wonderful job. This product is nothing more than black tea brewed with a variety of spices including cinnamon, nutmeg, and cardamon. Now this drink is meant to have been discovered by hippies wandering in Nepal at the base of the Himalayas; and of course, to make this drink authentic you should use yak milk.
Excuse me while I go down to the ACME and pick up a couple quarts of yak milk. Do you have the rancid 2% available? Of course here in the good ol' US of A we make chai with filtered water and skim milk. But is it authentic? Actually, I prefer all drinks with milk, and chia (no that's a pet with grass growing out of it), chai is actually very pleasant brewed with just water.
Tea was known long before some Abyssinian goat-herder noticed his flock getting high on coffee berries, and coffee's popularity is only due to political reasons, and of course, artificially high taxes on tea. I remember an incident in the Boston harbor protesting the issue. The good news is that there are no longer any high taxes on tea, but unfortunately the high cost of marketing has taken the place of taxes. But really good tea is now available in many locations. In fact tea-houses have started to spring up amongst the plethora of espresso joints.
Before you, the restaurateur, make your leap into the gourmet tea market, it's worth your while to carry out tea tastings with your purveyors. Unfortunately, there are still too many people selling expensive tea dust (known as finings), rather than good quality tea. Tasting is the only way to find the blends you and your customers will enjoy.
I don't drink milk. This isn't because I don't like it, it's because milk doesn't like me! Along with another large portion of the population, I am lactose intolerant, therefore it's a good idea to carry rice or soy milk (or yak's milk). And best of all, it foams up really well when you make cappuccino with it.
Well after writing this piece, I must ask myself, what was the point? I think the point I was trying to make was studying a few surprising statistics can enable you to make some subtle changes in your operation to attract customers that have previously ignored your business and walked straight by you. (No, put those clothes back on - that's not a subtle change, and that type of attention can land you in jail!)
Still curious about Coffee, check out our Coffee Alphabet.
---